Skip to main content
MindForward Alliance Global Summit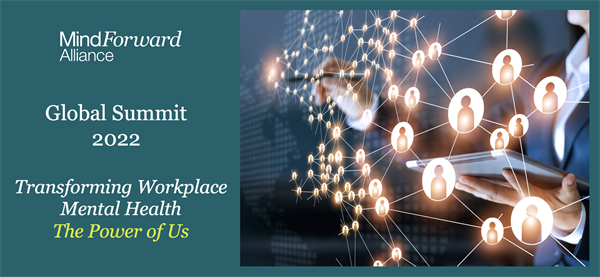 08 Nov 2022 to 10 Nov 2022 05:00 - 23:00
The Summit will convene business leaders and HR practitioners from some of the world's largest businesses at the intersection of business, mental health and wellbeing. At the heart of this conference is the belief that businesses, a cornerstone of societies globally, can be part of the solution to the global mental health crisis we face. By bringing businesses together to share ideas, pool their resources and work towards a common goal, better, more sustainable mental health and wellbeing outcomes will be achieved for people, sooner.
The Summit will feature contributions from MindForward Alliance, our global chapters, as well as our local network of in country alliances - City Mental Health Alliance (CMHA) UK, CMHA Hong Kong, Corporate Mental Health Alliance Australia and New Zealand (ANZ), MindForward Alliance Singapore, MindForward Alliance North America and MindForward Alliance India. The Summit will also invite leaders to join our leadership campaign, The Global Business Collaboration for Better Workplace Mental Health.
View the full 3-day agenda here .
Access the  entire 2022 global summit here;   featuring 22 sessions, hearing from over 80 global speakers and industry experts.
Topics and themes include
Psychologically informed leadership

Climate change and mental health

What drives employee wellbeing?

Creating a global workplace mental health strategy

Preventing burnout

Mental health & ESG

Creating global networks of mental health ambassadors

The future of workplace mental health

How to establish a global EAP provision

Supporting the mental health of employees in early careers

Experiences of Thriving at Work - improving mental health and wellbeing at work

Leadership inside stories 

On demand resources

Access our wellbeing hub
You will hear from business leaders and industry experts
Be inspired by innovative thinking  & new ideas in workplace mental health and wellbeingand learn about how workplace mental health & wellbeing is approached in countries around the world. We are delighted to confirm the following speakers with more announcements coming soon:  
Adeife Onwuzulike, Global DEI Director, Euromonitor
Alex Bowen - Chief Operating Officer, PayMe, HSBC
Alistair Carmichael, Associate Partner at McKinsey & Company
Amy VaaS, Global Wellbeing Lead, PwC
Ana Figueiredo, Chair, MindAlliance Portugal
Anastasia Vinnikova, Head of Workplace Wellbeing, CMHA UK
Andrea Blackman, Managing Director Global Head Moody's ESG Solutions at Moody's Corporation
Andrew Culleton, Executive General Manager Group People Services, Commonwealth Bank of Australia
Andy Chorlton, Global Head Of Fixed Income at Schroders Investment Management 
Arti Kashyap-Aynsley,Global Head of Health & Wellbeing, Ocado Group
Associate Professor Carlo Caponecchia, University of New South Wales
Barry Silverstein, Managing Director, Interbrand Health
Brad Herbeig, global leader of the Employee Mental Health and Wellbeing Initiative, Mckinsey Health Institute
Catarina Furtado, Moderation
Charles Alberts, Global Head of Wellbeing and Employee Experience, Clifford Chance
Charlie Cox, Founder of Climate Change Coaches
Dannielle Haig - Business Psychologist, Feel Good
Dianne Stewart, Director, Culture and Wellbeing, London Stock Exchange Group
Dr Brian Marien, Co-Founder and Director, Positive Group
Dr Edwin Ho, VP Health & Wellbeing for Asia, BP
Dr Kim Hamrosi, CEO Corporate Mental Health Alliance Australia
Dr Laura Kirby, Chief Mental Health Officer at Commonwealth Bank
Dr Laura Kirby, Organisational Psychologist, and Chief Mental Health Officer, Commonwealth Bank
Ed Moncreiffe - CEO of HSBC Life (International) Limited (and board Chair of CMHA HK)
Gonçalo Quadros, CEO Critical Software
Hannah McLeod, Managing Director CMHA HK
Hannah Winter, Head of Global Workplace Wellbeing, MindForward Alliance
Hayden Flinn - Partner, King & Wood Mallesons
Henrietta Jowitt, Advisor MindForward Alliance
Jaan Maden, head of training, CMHA UK
Jan-Emanuel, Professor of Economics and Behavioural Science, Said Business School, University of Oxford; Director of the Wellbeing Research Centre
Jasmine Hung, Director, Business Development, APAC CEO Office at HSBC Asset Management
Jennifer Tam - Partner, Mayer Brown (and CMHA HK board member)
Jennifer Tam, Partner, Mayer Brown, Hong Kong
Jeremy Hill, Head of Wellbeing, Standard Chartered
João Bento, CEO CTT
João Vieira de Almeida, Senior Partner VdA
John Flint, CEO UK Infrastructure Bank and global chapter Chair, MindForward Alliance
Julie Mitchell, Chief General Manager, Allianz Australia
Julie Stephens, Global Director of Wellbeing, Inclusion, Health & Safety, Bupa
Kumar Kymal, Global Head of Compensation and Benefits, BNY Mellon
Laura Young, International Wellbeing Manager, BNY Mellon
Laure de Panafieu, Partner, Head of Employment & Inventives, Linklaters Singapore
Lea Arora, Fellow, Mckinsey Health Institute
Mark Ellis, Managing Director of Learning & Development, CPP Investments
Mark Saunders - APAC Head of Client Partnerships, JLL (and CMHA HK board member)
Melinda Upton, CEO The Positive Group and CMHAA Board Member
Mellener Coelho, India Head Diversity Equity and Inclusion, Northern Trust
Michael Cole Fontayn, Non Executive Director, JP Morgan Securities
Nigel Jones, Executive Coach, CMHA Founder and Trustee of MindForward Alliance
Nuno Moreira da Cruz, CATÓLICA-LISBON Center for Responsible Business & Leadership
Penny Barsha - Corporate Responsibility Manager, Asia, Linklaters
Penny Myerscough, National Manager of Learning and Wellbeing Culture, Centre for Corporate Health
Pete Rogers, Deputy General Counsel, KPMG
Phil Canale, International Business Planning Manager and Global Co-Chair HEART BNY Mellon
Poppy Jaman, Global CEO of MindForward Alliance
Professor Sir Cary Cooper CBE, 

Professor

 

of Organizational Psychology & Health, Alliance Manchester Business School, University of Manchester 
Rebecca Anderson, Client Executive, Microsoft
Robert Swan OBE, polar explorer
Rosemary Gathara, Executive Director, Basic Needs Basic Rights Kenya
Sarah Cunningham, Managing Director of the World Wellbeing Movement
Sarah Henchoz, Partner Allen & Overy
Shefali Gera, EMEA Head of Diversity & Inclusion and Wellness, Goldman Sachs
Sherry Cui - Partner, Linklaters
Silvia Barata, CEO BP
Sue Baker, OBE, International Advisor on Mental Health and Managing Director, Changing Minds Globally
Sunita Wazir, Senior Manager Global Wellbeing, Unilever
Surendra Rosha, Group Executive of the HSBC Group and Co-Chief Executive of HSBC Asia-Pacific
Swayta Murarka, Senior Director, Global Banking Head HSBC
Tancy Tam, COO, HSBC Singapore
Toni Graves, Global Head of Reward & Wellbeing, Allen & Overy
Veda Persad, Country Executive, Northern Trust, India
Winnie Tsien - APAC Head of People Experience, JLL
Why attend the MindForward Alliance Summit?
Network & collaborate with peers on their workplace mental health and wellbeing strategies to inform your thinking on both local and global strategy
Contribute as a leader in workplace mental health to accelerating everyone's' journeys to improving workplace mental and wellbeing.
Be inspired by innovative thinking & new ideas in workplace mental health and wellbeing
Learn about how workplace mental health & wellbeing is approached in countries around the world
Be a part of a global community of mental health advocates committed to tackling the mental health crisis
The Summit is suitable for:
Senior business leaders 

Global wellbeing and HR practitioners

In country wellbeing and HR practitioners

Mental health advocates/champions/ambassadors within businesses

ESG experts

Health and safety teams